Dit zijn de afstanden die er per dag gefietst zijn. Dag 4 was de rustdag.Dag 5 en 6 waren de dagen dat we rond hebben gereden in de Veluwe zonder bagage.
Diekirch - Valkenswaard 2007
Diekirch - Valkenswaard is a 250 km cycling race from Luxembourg to the Netherlands. After our cycling vacation to the Black Forest we had wanted to ride it, but were too late to enroll. This year we were in time. At 6:30 in the morning we were at the start, it wasn't very crowded yet. In total 1298 people would join.
It was crowded at the start

The start was at 7, but as we weren't right at the front we couldn't leave until 7:15.
We were on our way

The first twenty kilometers were different than we had expected. It wasn't mountainous at all. Later it became hilly. At the famous Tommerberg, with an incline of over 20%, we saw people getting of their bikes to walk. We just kept going and passed many people. The first checkpoint was after 70 km, in St. Vith.
Bij de eerste post was het ook druk
Without stamps from the start and 4 checkpoints, finishers wouldn't receive a medal.

We took a break for about 10 minutes. Then the landscape became more hilly. At one of the hills my bottle cage fell off my bike and with it also my pump. Hopefully we wouldn't get a flat tire. The descends were pretty dangerous, because the roads we narrow and there were a lot of people. One was by far the worst. There was a 3 lane road, but half of it was closed off by fences. We had to slalom between them while going 50 km/h. Suddenly the fences weren't set down every 10 meters but continuously. Twenty meters later the were also put transverse on half of the road. The people who happened to be on the wrong side of the fences needed to brake hard and turn around.

At the second checkpoint we took another break. Afterwards we came to a red traffic light. There was road work being done and police checking, the fine for ignoring the light was 150 euros. As soon as the light turned green we raced to make up for lost time. We ended up in a fast group going 36 km/h. When the hills started again the group fell apart. We kept cycling with a bald guy and two 30 year olds. Just before the third checkpoint Bart couldn't keep up anymore.
We quickly ate to get some energy, every checkpoint was well staffed.

We were told it would be flat after the third checkpoint, which was true. Soon we reached a large group. Without much effort we could ride along, at 36 km/h. We quickly made it to the fourth checkpoint.
We cycled in the rear of a large group
The last checkpoint, I looked very happy
The man with the bald head, he was the only one without a helmet.

Before we realized the large group had ridden off again, so we had to continue by ourselves.
On our way for the last few kilometers

A group of cyclings from some sport club were following us. Later we decided to follow them, that was easier. We continued over a road we had also cycled on the last day of our cycling vacation to the south of France. From there it was only 10 kilometers to Valkenswaard, but we took a big detour. With 5 kilometers to go I couldn't keep up with the group anymore and Bart and I rode to the finish together.
We made it !

Unfortunately there were no round-card girls. We arrived at 16:30 so were well in time to get a medal, which were given to everyone finishing before 20:00.
Receiving our medals in the bar
Everyone with a full stamp card arriving before 20:00 recieved a medal
I was happy

We shook the blad guy's hand before sitting down and drinking, as had agreed, a Duvel beer.
We took a well deserved break
A Duvel beer to complete the race

In total we had cycled 246 km, which meant the race had been a bit shorter than previous years. Our average speed was 29,3 km/h, which was faster than we had expected.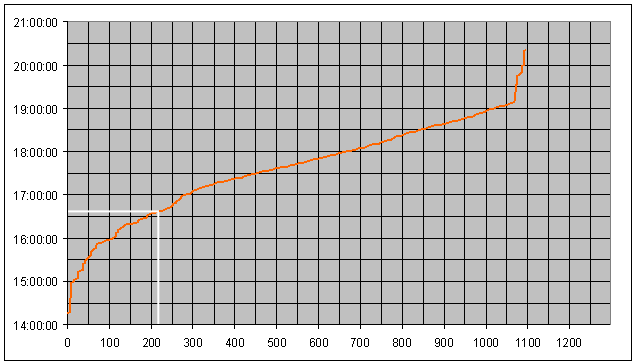 A graph showing finish time versus the number of participants. 1298 people participated, but as you can see not everyone finished (in time). The white lines indicate our finish times.
​
We had finished at 16:38, in 228th and 229th position.